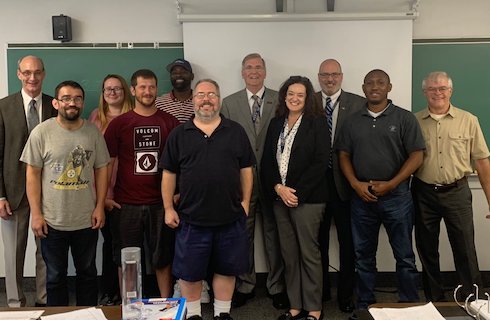 Northern Pennsylvania Regional College (NPRC) partnered with several organizations including the Greater Erie Community Action Committee (GECAC), Northwest Industrial Resource Center (NWRC), Erie Together, and NWPA Job Connect to participate in the Erie Regional Manufacturer Partnership's (ERMP) recent WorkAdvance program. WorkAdvance is a multifaceted program that offers foundational career coaching, skill training, and employment placement assistance – specifically in the manufacturing industry. The WorkAdvance program received funding this past October when the City of Erie awarded $25,000 to the program as part of its business development assistance program, the Commodore Fund.
The WorkAdvance program is appealing to both employers and future employees. The program transforms the unemployed and underemployed into highly trained and credentialed workers, providing them better opportunities.
NPRC Offers the Support of Workforce Development Specialists
At NPRC, we offer a variety of workforce development training programs including CDL training, emergency medical services, and powder metal courses locally in Erie County, Elk County, Warren County, and more.
We provide resources to businesses seeking training for their employees. From specialized guidance to connections within the community, our Workforce Development Specialists can provide support to many businesses throughout northern Pennsylvania communities. We work to understand the needs of each community and can provide expertise regarding various training opportunities. Get in touch with one of our Workforce Development Specialists today to discuss your current and future opportunities.
*A press release regarding this event was sent out by https://www.yourerie.com/news/local-news/work-advance-initiative-program-underway-in-erie/