Discover More about Candidacy and Accreditation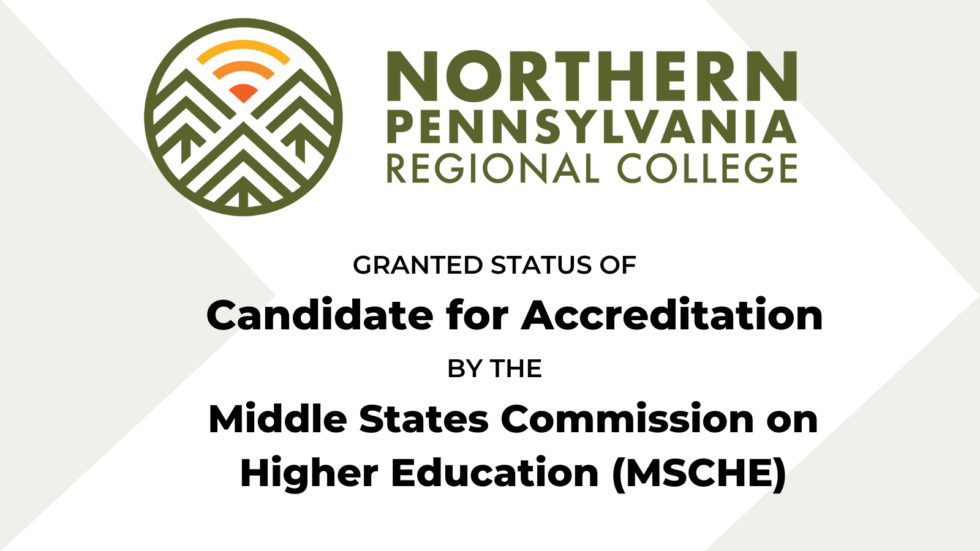 What does Candidacy Mean?
In 2023, Northern Pennsylvania Regional College achieved a significant milestone in its journey to accreditation and is now a Candidate Institution through the Middle States Commission on Higher Education (MSCHE).
NPRC first began its journey to accreditation a few years ago and elected to pursue accreditation through MSCHE. Many institutions in the College's region, throughout the country, and around the world are proud to be accredited by MSCHE. This institutional accreditor is widely viewed with high regard by scholars and institutions of higher education.
While NPRC formally announced the news in March 2023, this is what you should know about accreditation and what it means for NPRC to be a Candidate institution.
What is Accreditation?
Accreditation is an optional quality assurance process for colleges that helps ensure an institution's credibility. NPRC values accreditation because it affirms certificate and degree programs align with the highest possible standards. Therefore, achieving accreditation gives students confidence that their education is held in the highest regard and positively impacts their careers and professional futures.
What does it mean to be a Candidate for Accreditation?
To be a Candidate for Accreditation means NPRC has been accepted as a member institution of MSCHE and will begin its first self-study. This is a multi-year review process that helps support the College's goal of continual improvement.
Why is it important?
The news of Candidacy brings added opportunities for current and future students. For example, all current and future students who complete their degrees during the College's Candidacy phase will be able to share that their achievement occurred at an accredited college upon NPRC's granting of accreditation status by MSCHE. This means that, once NPRC is able to have the College's accreditation affirmed, in May 2023 NPRC graduates will be the first students in institution history to be able to declare that they received accredited associate degrees and general education certificates in the future.
Financial Importance of Accreditation
Moving to financial implications, many current NPRC students are eligible for institutional aid from NPRC to help students meet the costs of college. In addition to holding the cost of tuition rates at the same low rate since the 2018-19 academic year, NPRC is proud to have kept more than 50 percent of required academic textbooks available at no cost through open education resources.
Scholarships and grants provide another avenue to students looking for sources of financial support for their education. While all these attributes make NPRC affordable, becoming a Candidate for Accreditation continues to pave the way for NPRC to become eligible to award state and federal aid, sometimes referred to as Title IV Aid.
Title IV Financial aid includes programs associated with the Free Application for Federal Student Aid (FAFSA ®). Upon successful Title IV application completion, NPRC will be eligible to award aid such as Pell grants and Pennsylvania Higher Education Assistance Agency (PHEAA) funding.
Additionally, accreditation brings new funding opportunities for United States veterans who are taking or will take courses at NPRC. Becoming a Candidate for Accreditation provides NPRC the opportunity to initiate the process of applying for veterans funding and GI Bill benefits. These funds will then be able to be accepted once accredited.
Additional Pathways for Success
Another added benefit of NPRC becoming a Candidate for Accreditation is it will eventually provide additional pathways for NPRC graduates to smoothly transfer to four-year colleges. Presently, NPRC is in good standing with many local institutions, including having an academic agreement and scholarship program with Commonwealth University (integrated Universities of Bloomsburg, Lock Haven, and Mansfield). Candidacy as a member institution of MSCHE assures potential transfer institutions that NPRC adheres to the same standards of accreditation and commitment to excellence. This paves the way for more partnerships in education and helps many of our current and future students find their next stop in their educational journey in a more seamless way.
NPRC's President Susan Snelick shares, "This is a significant milestone and one of the most important days in the young history of Northern Pennsylvania Regional College. I am proud of the entire NPRC team, community, legislative advocates, students, and the College's community and location partners. We look forward to continuing to work closely with the Middle States Commission on Higher Education as we strive to meet NPRC's mission and service the region's residents and employers."
For more information about NPRC's accreditation journey, including periodic updates on NPRC's status as candidates and progress towards being Title IV aid eligible, head to the NPRC website and connect with us on social media.
NPRC acknowledges that the information contained in this content is complete and accurate at time of publication. It is descriptive in nature and the college reserves the right to make any adjustments it deems necessary or desirable. Updates to programs, tuition, or other academic-related items will be reflected in the online College Catalog or on the respective College web pages. Questions regarding accuracy of content may be emailed to marketing@rrcnpa.org.
Start building a career today where affordable opportunities are endless.
See What Our Students Have to Say

Growing up in rural Potter County, Pennsylvania meant if I wanted good educational and employment opportunities, I would have to move. When NPRC started offering classes less than 30 minutes from my home (almost an hour closer than the next closest college), my future was no longer dependent on living in a more urban area. I received a quality education without spending the tens of thousands of dollars on room and board a traditional school would have required. And now, I feel incredibly blessed to be a part of the team making this story possible for so many other people in rural Pennsylvania. NPRC's mission is a necessary one, helping serve a part of the population that has lacked affordable and quality higher education for decades. This school helped me avoid debt, find my path in life, and now, I have a job I love and opportunities I never expected.
- Brian, NPRC Graduate
While attending NPRC, I am enrolled in 16 credits and working toward a degree in business administration. This switch is already positively benefitting me as a student. I have been keeping up with classes and shifting out of bad habits that may hinder my success. As someone who is diagnosed with anxiety and ADHD, it sometimes gets hard to effectively communicate. However, NPRC continues to provide opportunities to not only challenge myself, but to help me grow as a student, and more importantly, as a person. NPRC was my second chance. My second chance to help me build myself better, and I feel like my future is already better than what it was before NPRC.
-Noah, Business Administration Student
My time at Northern Pennsylvania Regional College has been a great experience even through the COVID-19 pandemic. Never did I imagine doing a year of college in my own home and still be able to be on the Dean's List and be extremely proud. I am 39 years of age, and it has taken me this long to attempt college. I have to say that starting college at this age was hard. However, everyone at NPRC has made it easy for me to understand what it means to be studious. You can feel the care that is given to you through the staff at NPRC. The instructors are always willing to help and they will always answer the questions that we have. This college is a great way to get started on your new path through life. There are so many options to pick from if you are undecided.
-Claudia, NPRC Graduate
I started with NPRC right after graduating high school in 2018. I was not sure what I wanted to do career-wise, but the criminal justice field had always piqued my interest. Before finishing my two-year degree with NPRC, I decided to transfer to a four-year university to further my education in both sociology and criminal justice. Without the affordability of NPRC and their knowledgeable staff, I would never have dreamed of being where I am today. I will be graduating from RIT in August of 2022 having majored in Sociology and Criminal Justice, as well as having minored in Criminal Justice. I am excited to start a career in the federal Criminal Justice system or within admissions/counseling in higher education. I plan to put myself through law school while working full time after graduating from RIT.
-Ally, Former NPRC Student
Frequently Asked Questions