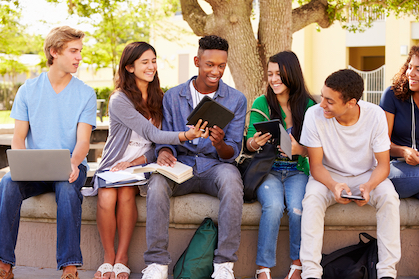 Early in September, an alumna, and current employee, of Northern Pennsylvania Regional College (NPRC) said, "Education is meant to be a foundation to build a life on. When a building is built, the fifth floor cannot be made before the ground floor, and the walls cannot go up before the footings are laid. Similarly, a master's degree cannot be earned before a high school diploma, and knowledge cannot be attained if it is never learned."
In this way, NPRC seeks to serve a foundational role in adding value to our underserved region through needed post-secondary education – in the form of two-year degrees and workforce training – to increase upward mobility in our communities.
Start Your College Journey With Us!
NPRC gives students an affordable, local, and high-quality post-secondary education option without having to drive long distances or pack up and move to a residential campus. It can also save students thousands of dollars and give them a solid foundation for continued education or a career. We prepare our students to enter the workforce or continue their education and complete a four-year degree.
NPRC Can Save You Money
At NPRC, our innovative model allows us to keep our tuition low, making our classes and degrees affordable to students across the region. A complete associate degree, including books and fees, totals around $16,000, and our cost per credit is more than $400 less than the national average. While students are eligible to receive federal and state financial aid and grants, there have been several of our students who were able to finish their associate degree debt free!
After completing any number of credits with NPRC, students can choose to transfer those credits to most other colleges and institutions and enter a four-year degree program. Students may be eligible to enter a four-year school with advanced standing, transferring 24 or more credits. This is significant because, not only would you have more than a year of college completed, you would have also saved on the subsequent room and board expenses, meal plans, and additional fees students may be required to pay at a residential four-year college.
Additionally, our evening class offerings allow our students the ability to balance life and work, while pursuing a college education and saving money for future education costs.
Why Choose NPRC?
With NPRC, you have the opportunity to remain in familiar surroundings while juggling life and the academic demands of higher education. For many students, this can be an extreme advantage. College isn't like high school and non-traditional students find themselves unaccustomed to being in a classroom again. Having to adjust to a new lifestyle and community can be just as, if not more, challenging as the coursework. By taking that out of the mix, we give students the ability to focus and adjust to being engaged students.
Give yourself a firm foundation to build your academic journey or career on and begin classes with NPRC. Check out our Spring 2019. The deadline to enroll for the Spring semester is January 7.