Course Work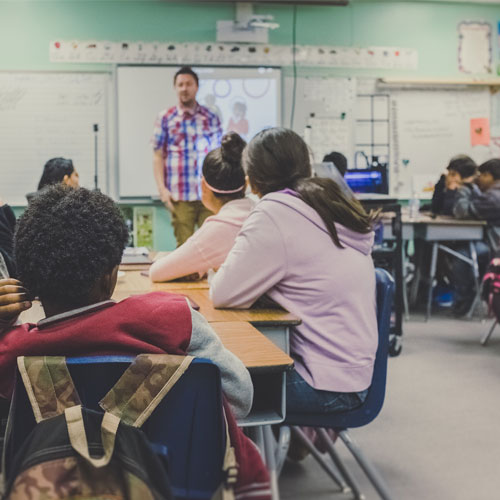 Learn to develop, manage, and evaluate early childhood programs, as well as implement developmentally appropriate curriculum for children from birth through early school years. Develop foundational knowledge and practical skills related to assessing the needs of children with one or more developmental delays and applying educational and therapeutic strategies into daily routines.
Establish relationships with service providers and learn to utilize available community resources to provide parents and other caregivers assistance with information and in maximizing their child's progress. Extensive field experience builds practical skills in applying classroom theories and principles and establishing connections to professionals in the field.
Your program of study includes classes in teaching and learning, special education, concepts and methods of instruction in art, literacy, and reading. Discover how to integrate curriculum while meeting the needs of students with unique challenges. Acquire the skills and knowledge to help children and parents develop positive behavior supports and navigate the educational system.
The curriculum for the Associate of Arts in Early Childhood Education/Early Intervention includes a core of general education courses to help you build your skills in writing, speaking, reasoning, and understanding others to form a solid foundation upon which you will build your expertise in Early Childhood Education/Early Intervention.
Interested in this program? Contact a student success specialist near you!
What can I do with the Early Childhood Education Associate Degree?
The associate degree in Early Childhood Education/Early Intervention will start you on a path to receiving associate licensure in pre-kindergarten education. You will be qualified to teach in, or manage, licensed daycare, Head Start, and preschool programs, or become a library assistant.
Typical Sequence of Classes:
First Term (12 Credits)

First Year Seminar (2)
EDCR 101: Psychology of Learning & Teaching (3)
SPCH 111: Public Speaking (3)
LENG 111: College Composition (3)
EDCR 103: Foundations of Teaching (1)
Second Term (12 Credits)

LENG 112: Critical Analysis and Composition (3)
SPED 101: Special Education Overview (3)
LTHE 101: Foundations of Theology (3)
ECED 100: Early Childhood Overview (3)
Third Term (9 Credits)

LPHI 131: Intro to Philosophy (3)
ECED 101: Child Development Birth-Age 5 (3)
ECED 103: Instructional Design & the Early Childhood Classroom (3)
Fourth Term (14 Credits)

SPED 242: Collaboration/Partnerships in Special Ed (3)
ECED 200: Early Language/Literacy Development (3)
SPED 245: Meeting Learning Needs w/ Exceptions (3)
EDCR 302: Expressive Arts (3)
ECED 204: Concepts/Methods Math I (2)
Fifth Term  (12 Credits)

ECED 202: Concepts/Methods Early Lit/Reading PreK-1 (3)
ECED 300: Integrated Curriculum PreK-4 (3)
ECED 306: Data-Driven Instruction PreK-4 (3)
ECED 310: Physical Well-Being of Child (3)
Sixth Term (9 Credits)

ECED 309: Family Involvement in Educational System (3)
SPED 322: Positive Behavior Supports (3)
SPED 343: Program Planning/Assessment in Special Ed (3)