Course Work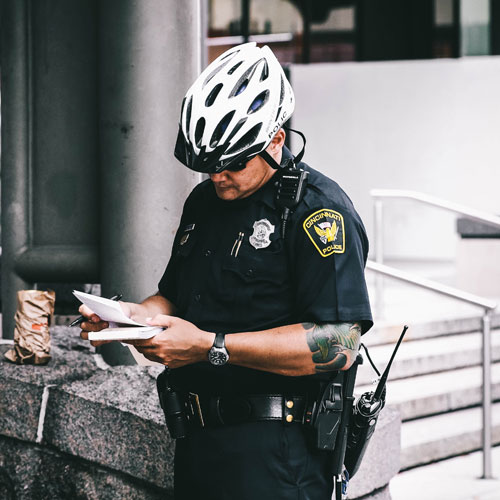 Learn about the criminal justice system through the study of criminal law in a practical manner. Pursue a career in public safety as a state or local law enforcement officer, parole and probation officer, corrections officer, or investigator.
Take advantage of opportunities to join the workforce upon completion of the Associate in Arts in Criminal Justice or gain additional knowledge, skills, and abilities by transferring to a four-year college or university and completing a bachelor's degree in your field of study.
Your program of study includes classes in correctional processes, criminology, police function, and cyber crime. Experience hands-on learning in the field through the completion of an internship where you will apply your knowledge, skills, and abilities while forming connections with other criminal justice system professionals.
The curriculum for the Associate of Arts in Criminal Justice includes a core of general education courses to help you build your skills in writing, speaking, reasoning, and understanding others to form a solid foundation upon which you will build your expertise in Criminal Justice.
Interested in this program? Contact a student success specialist near you!
What can I do with the Criminal Justice Associate Degree?
This degree prepares you for work as a police officer, state trooper, patrol officer, correctional officer, probation officer, private detective, security officer, fish & game warden, paralegal, forensic toxicologist, crime scene investigator, forensic science technician, computer forensics investigator, fraud investigator, FBI agent, CIA agent, US postal inspector, immigration and customs enforcement agent, homicide detective, DEA agent, and secret service agent.
Typical Sequence of Classes:
First Term (11/12 Credits)

First Year Seminar (2)
CRJS 110: Intro to Criminal Justice (3)
SPCH 111: Public Speaking (3)
LENG 111: College Composition (3)
Service Learning (1)*
Second Term (12 Credits)

LENG 112: Critical Analysis and Composition (3)
PSYC 111: Intro to Psychology (3)
LTHE 101: Foundations of Theology (3)
CRJS 201: Correctional Process (3)
Third Term (9 Credits)

LPHI 131: Intro to Philosophy (3)
CRJS 240: Criminological Theory (3)
POLI 111: US Government (3)
Fourth Term (12 Credits)

ENGL 212: Business/Professional Communication (3)
CRJS 241: Cyber Crime and Society (3)
CRJS 310: Investigative Concepts (3)
PSYC 211: Psychological Statistics (3)
Fifth Term  (12 Credits)

CRJS 320: Criminal Law & Procedure (3)
CRJS Internship (3)
LHST 111: History Without Borders (3)
SOCI 110: Basic Sociology (3)
Sixth Term (9 Credits)

CRJS 202: Police Function (3)
CRJS Internship (3)
CRJS 350: Criminal Justice Ethics (3)
*Optional