Course Work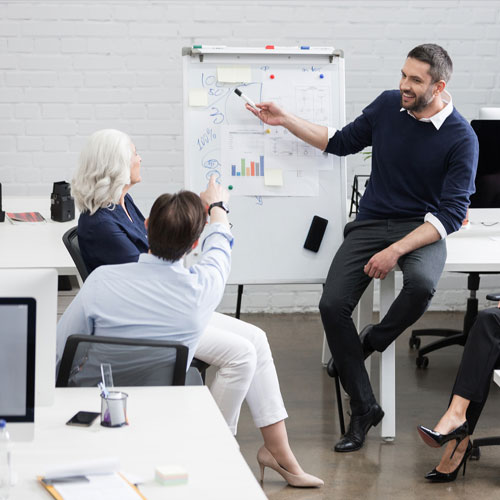 Prepare to work in banking, health care, insurance, real estate, retail business, or elsewhere in the business world by completing an Associate of Science degree in Business Administration. Use what you learn to launch your own business or transfer your credits to a four-year college or university to complete your bachelor's degree.
Take the first step toward becoming an accountant, administrative executive, banker, consultant, executive director, project manager, retail manager, strategic planner, or other business professional.
This program of study includes classes in economics, accounting, marketing, and management. You will also learn how to use common business technology to grow your presentation and business communication skills.
The curriculum for the Associate of Science in Business Administration includes a core of general education courses to help you build your skills in writing, speaking, reasoning, and understanding others to form a solid foundation upon which you will build your expertise in business administration.
Interested in this program? Contact a student success specialist near you!
What can I do with the Business Administration Associate Degree?
By completing an Associate Degree in Business Administration, the course work will prepare you for work as an administrative assistant, secretary, retail manager, advertising sales agent, accounting clerk, audit clerk, bookkeeping clerk, accounting assistant, accounts payable clerk or an accounts receivable clerk.
Typical Sequence of Classes:
First Term (11/12 Credits)

First Year Seminar (2)
BCOR 105: Foundations of Business Enterprise (3)
MATH 114: Algebra (3)
LENG 111: College Composition (3)
Service Learning (1)*
Second Term (12 Credits)

LENG 112: Critical Analysis and Composition (3)
PSYC 111: Intro to Psychology (3)
LTHE 101: Foundations of Theology (3)
CIS 150: Business Technology (3)
Third Term (9 Credits)

LPHI 131: Intro to Philosophy (3)
CIS 250: Business Technology II (3)
BCOR 111: Microeconomics (3)
Fourth Term (12 Credits)

ENGL 212: Business/Professional Communication (3)
BCOR 214: Accounting I (3)
SPCH 111: Public Speaking (3)
PSYC 211: Psychological Statistics (3)
Fifth Term  (12 Credits)

BCOR 214: Accounting II (3)
BCOR 112: Macroeconomics (3)
LHST 111: History Without Borders (3)
SOCI 110: Basic Sociology (3)
Sixth Term (9 Credits)

BCOR 240: Marketing in Global Environment (3)
LPHI 237: Philosophy of Ethical Responsibility (3)
BCOR 250: Management Theory/Practices (3)
*Optional