Course Work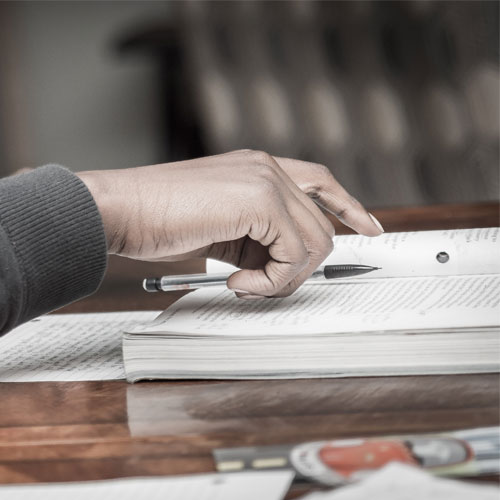 Focus on building a strong foundation through studying a broad array of disciplines. Use your generalized educational curriculum to transfer to a four-year college or university to complete a bachelor's degree in a variety of fields.
Your degree plan includes classes in writing, speaking, and reasoning. Expand your knowledge of philosophy, grow your appreciation of the arts, learn about human behavior, and understand applications of science and math to the world around you. Choose from course options that include introductory courses in a range of disciplines, including education, business, criminal justice, and social sciences to round out the first two years of your educational plan.
Launch your educational development through a multidisciplinary approach for continued studies in humanities, natural sciences, social sciences, the arts, and more. Prepare to pursue a career in education, business, government, or another field. The Associate of Arts in Interdisciplinary Studies establishes a broad base of knowledge, skills, and abilities to open the door to employment opportunities.
Interested in this program? Contact a student success specialist near you!
What can I do with the Interdisciplinary Studies Associate Degree?
Working toward an Associate Degree in Interdisciplinary Studies will give you experience in a broad array of disciplines and prepares you for potential employment as a paralegal, journalist, author, or advertising administrator.
Typical Sequence of Classes:
First Term (11/12 Credits)

First Year Seminar (2)
CRJS 110: Intro to Criminal Justice (3)
MATH 114: Algebra (3)
LENG 111: College Composition (3)
Service Learning (1)*
Second Term (12 Credits)

LENG 112: Critical Analysis and Composition (3)
PSYC 111: Intro to Psychology (3)
LTHE 101: Foundations of Theology (3)
BIOL 104: Human Biology (3)
Third Term (9 Credits)

LPHI 131: Intro to Philosophy (3)
LTHE 201: The Bible: An Introduction (3)
POLI 111: US Government (3)
Fourth Term (12 Credits)

ENGL 212: Business/Professional Communication (3)
LPHI 235: Philosophy of Knowledge (3)
SPCH 111: Public Speaking (3)
PSYC 211: Psychological Statistics (3)
Fifth Term  (12 Credits)

CIS 150: Business Technology I (3)
BCOR 112: Macroeconomics (3)
LHST 111: History Without Borders (3)
SOCI 110: Basic Sociology (3)
Sixth Term (9 Credits)

LENG 247: Intro to Literature (3)
LPHI 237: Philosophy of Ethical Responsibility (3)
LFIN 251: Intro to Music (3)
*Optional